Welcome to the Royal Borough of Greenwich NQT Vacancies Website!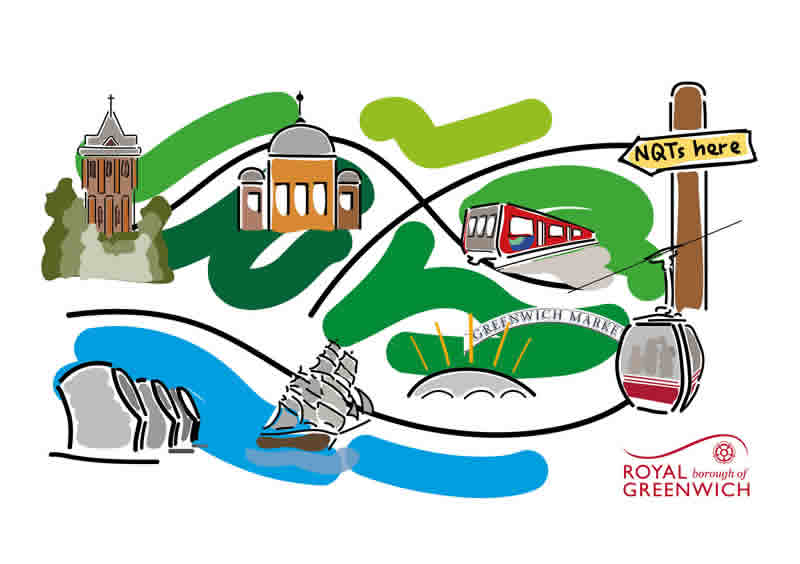 Our schools will be using this site to post details of vacancies which may be of interest to NQTs. Please read individual advertisements carefully to find out how to apply.
Please click on the link to the left to register with us. If you are already registered with the Direct Services to Schools website, please use these login details to login now.
Once you are registered and logged-in, please take a moment to manage your notifications. You can set the details of the job you are seeking so that once a school uploads a vacancy which matches your needs, you'll receive an email to alert you, ensuring you won't miss your perfect job!
Benefits of Working in RBG
The health and wellbeing of our staff is very important to us. As an employee of the Royal Borough of Greenwich, you are eligible for One Card membership which gives you discounts at Royal Greenwich Leisure Centres as well as a wide range of discounts on products and services at participating local businesses, including The O2, ExCeL, Greenwich Theatre and local shops and restaurants. Please visit http://www.royalgreenwich.gov.uk/onecard for more information
Your Starting Salary
Royal Greenwich teachers' salaries are on the Inner London Pay Scale. As a newly-qualified teacher, you will usually start on the first point of the main pay scale (M1). For September 2017 this was £28,660. Depending on your school's individual pay policy, any previous work experience may be taken into account in determining a higher starting point.
Pension Contribution
Once you are in permanent employment, you will automatically be entered into the Teachers' Pension Scheme. For more details, please visit Teachers' Pensions: https://www.teacherspensions.co.uk/members/your-scheme/starting-out.aspx
Welcome Session
All of our NQTs are invited to a Welcome Session in September, held at our Professional Development Centre. This is an opportunity for you to meet those who support your induction and to learn how the processes of induction work. We'll also ensure you're clear about the roles and responsibilities of your school, yourself and the local authority, and provide you with details of the support that is available to you.
Central induction programme
The central induction programme is available for Early Years and Primary NQTs. The 12 sessions cover a range of topics to support your development and give you the invaluable opportunity to network with colleagues from other schools. A range of expert practitioners are involved in the delivery of the programme, and it gives NQTs from across the borough to share their experiences and extend their support network.
NQT Conference
We invite all of our NQTs to an annual conference, where they can hear from phase-specific specialists on current topics as well as participate in a motivational session with their wellbeing and personal development as the focus. It's a great opportunity for NQTs to share their experiences with their peers and it's always a really positive event.
School-based induction
This will be organised by your Induction Tutor, who will use your ITT transition records as a basis to ensure that appropriate support is put in place as soon as your Induction period begins. Each NQT must have a personalised action plan, identifying use of non-contact time and targets, which is revised half-termly.
We deliver tutor training sessions for all of our tutors and ensure that there is on-going support available to them. We also produce many resources to support induction and maintain regular contact with our schools. In doing this, we ensure that our schools provide a really great induction programme for NQTs.
Considerations when Looking for Your First Post
Length of commute
Your NQT period will be a busy time for you. You should carefully consider how you will travel to your school and the length of time this will take at the times of day you will be travelling. Be realistic about the time you are prepared to spend commuting each day.

The type of school you want to work in
There are a number of school types and criteria you need to consider:
- Number of form entry
- Mixed or single gender
- Challenging and the level of challenge
- Ofsted rating
- Whether the school is an academy, free school, independent or state school
- Through school
- Secondary with KS5 provision

Have you researched the schools you are interested in?
Make sure that you look at the school website, read the Ofsted report, read the school prospectus, make yourself aware of the school's ethos, and take note of the date of the last report as the school may have altered since its last inspection. You can also look up the school on the DfE website to gain an overview of its performance.

Applying for a Job
Schools advertise their vacancies on this website. Please read each advertisement carefully and make notes of how and when they are asking you to apply. Please ensure that you have regarded the closing date and time.
How should I prepare for an interview?
Interviews can take many different forms including:

Traditional panel interview, where you will be put in front of a senior member of staff, usually the head or a deputy, the chair of governors and a member of teaching staff.
Lesson observation; in primary schools this will normally be based around literacy or numeracy or a specific project the class are currently working on. In secondary schools you will normally be asked to teach a subject specific topic. Pay attention to the duration of the lesson you have been asked to teach. Once the lesson is complete you will then normally be interviewed.
Trial day; you will spend a day in the school covering either different year groups or a particular class and be observed at intervals throughout the day
One to one interview - where you will meet with a senior member of school staff in either a formal or informal setting
Some schools will perform telephone or skype interviews prior to inviting you into school
Have a list of questions that you want to ask the interviewer. Try to ask questions as it shows you have an understanding of what you are looking for from a school. A few topics you might want to consider include:
Take everything you'll need with you, plan your journey and look your best! Business attire is usually advisable. Don't forget to take:
two copies of your CV

original copies of your qualifications
your DfE registration
written testimonials from past jobs
your portfolio.
Make sure you know where the school is located and, if you have time, do a trial run a couple of days before. Leave plenty of time to get to your interview – remember traffic and public transport can be unpredictable.
Contact
Claire Ramadan
Schools Recruitment Manager
020 8921 5560
school-workforce@royalgreenwich.gov.uk
---
Interview Tips and Advice – Further Reading:
https://www.teachers.org.uk/members-reps/new-teachers/first-job
https://www.nasuwt.org.uk/advice/job-application-do-s-and-dont-s.html
https://www.theguardian.com/teacher-network/2015/jan/20/job-interview-lesson-nqt

More information about the Royal Borough of Greenwich:
http://www.royalgreenwich.gov.uk/info/100009/leisure_and_culture
http://www.royalgreenwich.gov.uk/info/100005/education_and_learning
http://www.allinlondon.co.uk/boroughs/greenwich/
http://londonist.com/2013/04/top-things-to-do-in-the-royal-borough-of-greenwich